Posted on
By Heather Smith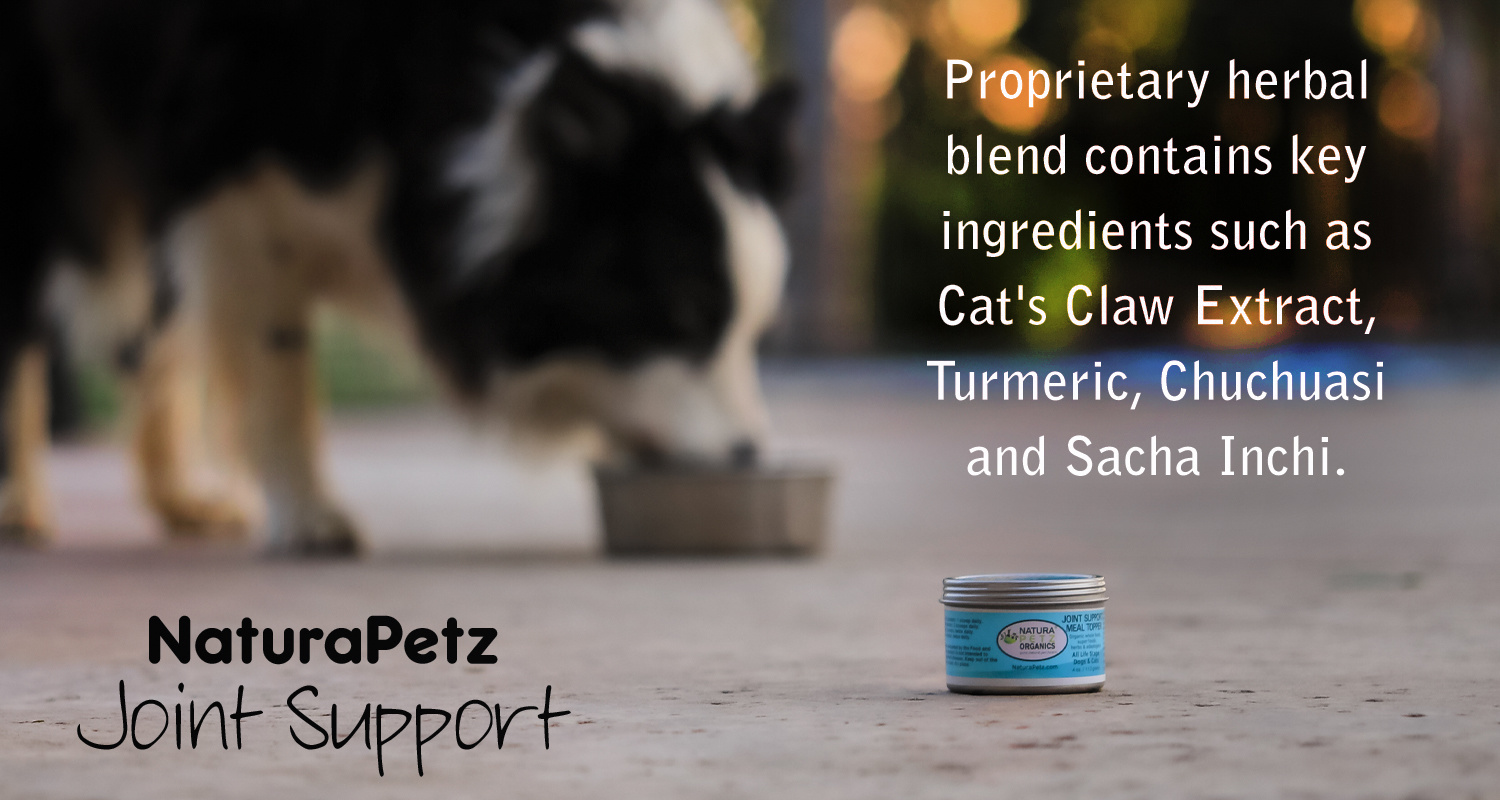 I know it's tough when there are so many options out there for joint support so I thought it may be helpful to highlight and review for you my new favorite product! Over the years I have tried many supplements on my dogs but after trying this supplement on my two border collies (ages 10 & 11) I have to say I am so impressed. Shane (my 11 year old) was having issues getting up my stairs, he had been on another senior supplement, but obviously it wasn't working.  After 2 weeks of feeding this topper Shane was back to his old self and flying up the stairs! The topper is flavored with Turkey and you just sprinkle the powder right on the food. Simple, easy and the dogs loved it! Below are some nutrition facts from the manufacturer.  We have this product in stock and available on our website or in store for only $19.95!!!
Joint Support by NaturaPetz is packed with concentrated nutrition in the form of natural antioxidants, glucosamine, chondroitin, MSM, vitamins, minerals, essential fatty acids (Omega 3 and 6) including ETA (Eicosatetraenoic acids), EPA  (Eicosapentaenoic acid), DHA (Docosahexaenoic acid) and GLA (Gamma-liolenic acid); amino acids, prebiotics, probiotics, digestive enzymes superfoods and adaptogen herbs which may help limit inflammation, may help address sore, aching joints and degeneration in muscle, bone and connective tissue related to all symptoms of arthritis; loss of synovial tissue and reduced collagen production, while helping to promote a balanced immune response. Contains glycosaminoglycans and proteoglycans, which make us the building blocks for cellular tissue, bone, cartilage, joint, and connective tissue throughout the body and may help stimulate up to 30% of connective tissue and bone when loss has occurred.
Recommended use
ALS, Adult, Senior, Puppy and Kitten.; for general immune system support; for immunocompromised & convalescing animals; for animals suffering from symptoms of rheumatism, degenerative joint conditions, muscle loss and connective tissue support; for symptoms of arthritis; as a geriatric support; for use in colder climates & during fall & winter months; for performance and working dogs and cats as a general joint and muscle support.